BTA Series of Rotary Tilt Buckets
Maximum 'Uptime' - Minimum Maintenance Costs,
The BTA series of Rotary Tilt Buckets are the ultimate shaping tool and are used by operators who understand the value of maximum "uptime" and minimal maintenance costs.
BTA Rotary Tilt Buckets have a unique profile with a compact tip radius which enables the bucket to cut through the ground more effectively with minimal resistance and drag. The self fill action gives an increased pay load. These combined benefits result in time and fuel savings.
With no cylinders, pins, bushes or grease nipples, and only two moving parts, the BTA range of tilt buckets offer superior advantages over cylinder style tilt buckets and are virtually maintenance free.
The BTA series is available for all machines from 1.5 to 70 tonnes.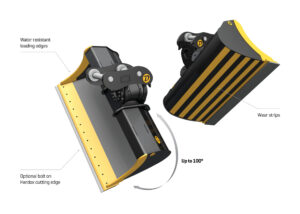 Click image to enlarge.
Doherty Power Actuator
The Doherty Power Actuator ensures precise control of the bucket with no unwanted movement. Because the hydraulic connections are stationary, hose fit up is greatly simplified and the danger of hose damage is minimised. The triple-sealed actuator is constantly lubricated with hydraulic oil, eliminating the need for daily greasing. The only regular maintenance is cleaning and lubricating the tertiary O ring end seals weekly which provides an additional level of sealing to ensure maximum service life.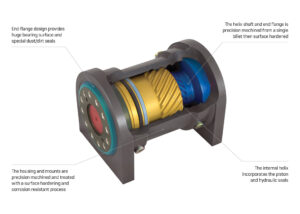 Click image to enlarge.
Doherty Power Actuator at a Glance
Slim structure
Specifically designed for excavator attachments
Maintenance-free
Only two moving parts
Multiple connection ports
Integral relief valve
Simple assembly
100 degree tilt angle
Triple sealed