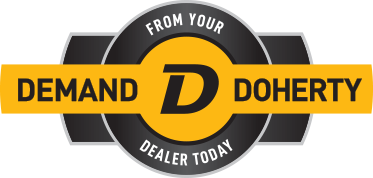 As part of the Kinshofer Group, Doherty Couplers & Attachments design and manufacture the fully compliant D-Lock coupler, and other quality earthmoving attachments.
Innovation, safety and quality sets the standards in everything we do. With minimal moving parts and our patented Dual Pin Locking system, the D-Lock range is testament to our continuous focus on improvement.
We're one of few manufacturers globally to offer fully automatic quick couplers 100% compliant to standards Australian AS4772-2008, European EN474, International ISO 13031 and all major contractor policies.
I've had other operators borrow my Doherty cleaning bucket and they've been massively impressed with how it cuts and picks up material. They ask to swap with their bucket brand so they can keep using mine!
Dan Pulman, owner/operator of Pulman Earthmoving Ltd.
We decided to use Doherty because of their reputation. We look for the best products in the industry but when it comes to finding a supply partner for equipment and systems that add value, the decision often comes down to the people more than anything else.
I like working with the guys at Doherty. The support you get from the team is the most important thing. They've got a good team and really easy to deal with.
Bryce Kilpatrick, managing director of Active Survey Ltd
We bought our first Snaplock+ tilt hitch system and bucket four months ago, after being recommended by our local mechanic. We were on the search for a hitch system that would allow a full 180-degree tilt and tough enough to withstand our workload.
It was an absolute pleasure dealing with Mark and hearing his knowledge and assurance of quality of the product. We knew we were building a long-term relationship with the Doherty team, being a new business in the industry it's nice to know we're using reliable gear with ongoing support.
Dave Graham, owner of Bay Shaping Ltd
Read more on What's Hot with Deals on Wheels and our Doherty […]
The Doherty NOX Tiltrotator won the Attachment of the Year!