SEE US AT
SITE D16
30 NOV - 3 DEC | MYSTERY CREEK, HAMILTON

D-LOCK TILT
THE ULTIMATE
COUPLER
When productivity is paramount
demand the D-Lock TIlt.

D-LOCK COUPLER
WHEN SAFETY
IS PARAMOUNT
The D-Lock heralds a new era in fully
automatic quick couplers.

NOX
TILTROTATORS
Turn effectively in your direction!

DEMOLITION
GRAB
GR Series - Robust multi purpose
excavator grabs.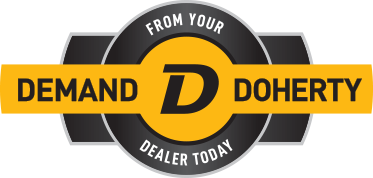 As part of the Kinshofer Group, Doherty Couplers & Attachments design and manufacture the fully compliant D-Lock coupler, and other quality earthmoving attachments.
"Meeting important safety requirements is important to us, and the dual lock system of the D-Lock Coupler reassures our operators. They like the way it locks tight and being multi-fit, it picks up all our attachments."
Kane Bennett - Melbourne Tractors
"I've used Doherty since 2017, when my new excavator came with a D-Lock Tilt. We stick with them because of the build quality and great customer support - when a new machine arrives with a Doherty hitch or bucket on it, the boys froth over it!"
Josh Simpson - SB Civil
"I've lost count how many Doherty quick couplers I've bought over the years. The back-up service is fantastic. Back when they started making buckets, I gave them a go, too. They do a really good bucket – the Powerdig."
Chris Robinson - Robinson's Earthmoving
Chad Empson of P3 Earthworks talks about what he finds most beneficial […]
The Ultimate Rockstar: We hear about Khan Archbold's journey and the machines […]